Office Address:
14742 - 64th Ave.
Surrey, BC V3S 1X7
Hours:
M-F 9 am to 6 pm
Sat 9 am - 5 pm
Sun 10 am - 5 pm
Phone:
Call 604.592.2817
Fax:
604.592.2878

Storage Units in Surrey, BC
Store Your Goods in Our Home and Commercial Storage Units in Surrey, BC
If you want to store your things in a safe, secure storage unit, you're in luck. At Canada Storage Station, we offer a wide range of storage spaces-large and small-for residents and businesses throughout Surrey. Whether you need to store large electronics, fine art, or a boat, we have the space to keep your items in a safe and clean environment.
Why Choose Self-Storage?
Many homeowners, business owners, and project managers need an easily accessible space to store items during a move or remodel. Due to its easy accessibility, self-storage has increased in popularity among residential and commercial clients.
Our storage in Surrey, BC is not only easily accessible, it stays heated and monitored 24/7 to ensure your belongings stay secure.
What Storage Space Is Right for You?
If you've had a difficult time estimating how big a storage room you'll need, we can help. Our team is trained to find a space that fits your belongings. We offer the following storage space sizes:
Small closet
Walk-in closet
Average size bedroom
Large bedroom
Small one-car garage
Standard one-car garage
Extra-long one-car garage
Browse through the chart below or contact us to get a better idea of which storage space you should choose.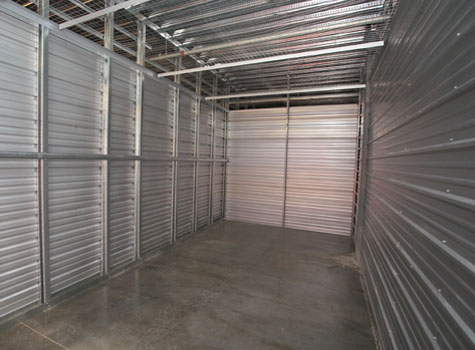 Unit Size
How to Visualize
Description of Possible Contents
5' x 5'

25 sq. ft.

Small Closet

Several stacked boxes and some small furniture like a chest of drawers, or washer, dryer and other small items.
5' x 10'

50 sq. ft.
Walk-in closet

A couch, chair, chest of drawers, mattress set, several stacked boxes and other small items
10' x 10'

100 sq. ft.
Average size
bedroom

Standard furnishings from a one bedroom apartment with a refrigerator or washer and dryer, plus boxes and small items.
10' x 15'

150 sq. ft.
Large bedroom

Furnishings from a two bedroom apartment or small house without appliances, plus cartons and small items.
10' x 20'

200 sq. ft.
Small one-car
garage

Furnishings from a small house or two bedroom apartment with appliances or a car, truck or boat.
10' x 25'

250 sq. ft.
Standard
one-car garage

Furnishings from a two bedroom home with appliances or a car, truck or boat.
10' x 35'

350 sq. ft.
Extra long
one-car garage

Furnishings from a three bedroom home with appliances or a car, truck or boat. Will hold contents of a 40-ft moving van.
NOTE: Second Floor units have 10 ft. high ceilings
Ground Floor and Outside Access units have 12 ft. high ceilings
Why Choose Canada Storage Space?
With years of experience, our team knows how to meet the needs of a varied clientele. We work closely with each client to determine reasonable rates and suitable storage space. We also offer onsite moving supplies so you can prepare your belongings for transfer in the comfort of your own storage unit.
If you need home, office, car, or boat storage in Surrey, contact us. We'll discuss pricing and storage options. We also offer reservations at no extra charge. Call 604.592.2817 today.